Originally published at Ekunyi's Embers. You can comment here or there.
Lord, we want to see You … Lord, we want to see You. … O Lord, come in peace. Let us see You …

Little one! How lovely it is to see You. - excerpts from the Lamentations of Aset and Nebt-het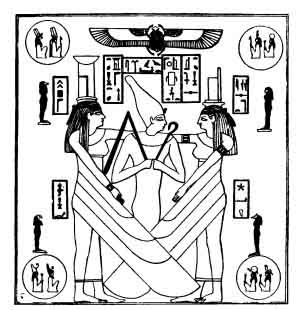 I witnessed the Mysteries alone this year, asthma necessitating my bowing out of previous plans to join in with an in-person gathering hosted by Heruakhetymose in Maryland. While I still hope to do a full vigil in years to come, my small-scale acknowledgement of Wesir's passing still proved quite moving for me.
My partner had purchased a statue of Wesir for me from a local store after seeing my disappointment at my health's ill-timed turn for the worse, and the Lord of Ma'at sat on my shrine for days, seemingly waiting for me to find the time to honor Him in my own way. I put it off for about a week, as stress over my music directorial debut and a brief dip in mood courtesy of the changing seasons made me wary of immersing myself in the solemnity of the occasion. Still He waited, a patient presence in the room, reminding me without anger that He was there, and He was ready when I found the energy to meet Him.
Finally, I prepared the shrine for Him with pine scented candle, sandalwood incense, a bit of earth. I kept his statue upright while I sang for Bast and Hethert-Nut, spoke the prayers to Set and Heru-wer that have become habit. It felt as though an honored guest had joined my regular host of deities, and there was no animosity.
Having gone through my regular senut prayers and praise, I lay Wesir on his back behind the pine candle. The shadows from the flame completely obscured His icon from my view when I returned to my knees. It was strange, having Him there, having just touched Him, and yet simultaneously being very aware of the lack of being able to see Him while the other images remained.
I read through the entirety of the translation of the Lamentations provided in Hemet's The Ancient Egyptian Prayerbook, and found my voice catching with each repeat of "Lord we want to see You." When I finally reached the end, I took awhile, sitting in the silence to consider why this was hitting me. I closed my eyes, entered the river to find the calm that Heqat's meditations have provided in recent days, and She joined me wordlessly while I attempted to sort things out for myself.
I am nearing a point in my life when my paternal grandfather has been gone from me nearly as long as I knew him in life. I love him and I do miss him, but I never knew him in the manner I might have as an adult. He passed while I was still too young to know the questions I would have asked, and while I am grateful that he (and, for that matter, my mother's father who died of cancer while she was still carrying me) have both been willing to accept my efforts to honor them as akhu, it will never be the same. I cannot see him the way I did once, I will never know him with the same depth that I would have liked.
But this, for all that it aches on occasion, does not truly mirror Aset and Nebt-het's grief in the Lamentations. Their consort and brother was close to them in a way that my grandfather, who I only saw a few times a year, never was. I have not yet experienced a loss of the magnitude of Wesir's death, I have not yet grappled with the void of a death of someone I know inside and out.
I have, however, become acutely aware of the inevitability of experiencing such a thing, and perhaps sooner than I would like. My mother's health has suffered greatly over recent years. She nearly lost a battle to kidney failure while I was overseas doing fieldwork, and I have spent several nights at her side in the hospital while she did her damnedest to fight off one form of infection or another. Her physical body has simply not kept up with the feisty, second-wave feminist lawyer that has so inspired me to become the proud, independent woman I am today. Her struggles in her battles with various ailments is antithetical to the sheer force of nature she can become out of love for her family, her career, and any child (two-legged or four-legged) who has ever needed her aid.
I am not ready to lose her. I suspect I never will be.
Granted, I sincerely hope that I will not lose her for some time yet. But the truth of the matter is, someday, I will. Someday, I will not be able to see the woman who I adore with my whole heart. The mother and friend I love so, so very much. She will be gone from me, and I will cry out, "Let me see you!"
And in time, some seventy days, I will. But it will be different. She will not be gone forever, but the way she appears to me will never be the same.
It makes me treasure each moment we have all the more.
Dua Wesir, for making me face these emotions. Dua Wesir, for allowing me to appreciate life and the time we have together with the ones we love most.